Hand starting for the modern engine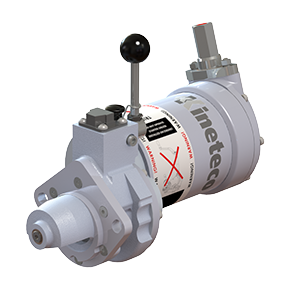 Z-drive spring starter with offset gearbox
Small, lightweight starter for engines with restricted block clearance
Smooth action power spring for easy winding
Standard SS/SR nosepieces with manual engagement and trip mechanism
Standard SS/SR crank wind with detachable handle
SZS/SZR spring starters are ideal where engine clearance or low flywheel inertia (common on modern engines) is a problem.  Designed for engines from 0.6L to 4L displacement, they are perfect for easy and safe hand starting.
With its flexible Z-drive gearbox, the SZS/SZR series can be configured to give greater engine clearance.
Based on the long established SS/SR range of starters, the SZS/SZR series have the advantage of using proven SS/SR components including nosepiece, winding, trip and pinion assemblies. Robust construction ensures they are suitable for a wide range of applications in difficult environments. With a manual engage and trip mechanism and detachable crank wind, the operator can choose exactly how the starter operates.
As with all Kineteco spring starters, the SZS/SZR series bolts directly into the standard starter pocket on the engine. Given the correct engine configuration, all the electrics can be dispensed with. Fitting takes a matter of minutes, and operation of the spring starter does not require any special skill or strength. Unlike a directly hand-cranked engine, time can be taken to wind the starter, which can then be tripped when ready.
Marine, flame-proof and E-pack dual start options are available ensuring Kineteco SZS/SZR spring starters can be configured to meet customers' exact requirements.
New engine applications are constantly being developed.  For engines not listed, please contact us.
Kineteco

SZS/SZR Series

Spring Starter

Specification
Description
SS/SR based spring starter with Z-Drive gearbox, power spring pack, set and tripped by hand.
Designed, manufactured by, and exclusive to, Kineteco
Rotation of Starter
SS = CW
SR = CCW
Engine Capacity
Max. 4L (subject to local environmental conditions and engine start-up load)
Torque (Range)
20 – 73 Nm Incremental (gearing dependant)
No. of Output Turns
4.4 – 16 Incremental (gearing dependant)
Output Energy
Nom. 950 Joules
Cold Starting
To 5°C (41°F) starting aids may be required
Maximum Winding Load
25Nm torque
To Wind Fully
20 turns
Mounting Flange Types
SAE 1, SAE2/3, SAE 4/5, Ford. Can be customised
Pinions Available
Fellows stub 10/12, 8/10, 6/8; Module 2.5, 3.0. From 11 to 18 teeth.  Can be customised
Winding Handle Position
Variable in 8.5° increments
Weight
14kgs
Shipping Dimensions
40 x 22 x 27 cm
Standard Equipment
Winding handle and handbook
Options – All models have the following options available
F
Flameproof
E
E-pack for dual starter installations
M
Sealed version for marine environments