Starting up to 9 litre engines with ease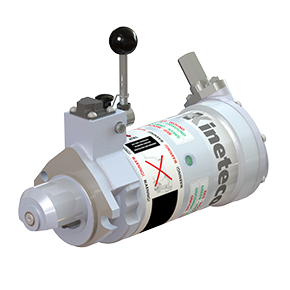 Heavy duty version of the original spring starter
Unique 50 years reliable service
Rugged steel construction
High torque disc spring power
Suits a wide range of engines
Manual set and trip mechanism
Crank wound with detachable handle
The original heavy duty spring starter has an unrivalled track record of over 50 years reliable service.  Produced by Kineteco, it has a well-earned reputation for quality and durability, selling tens of thousands worldwide.
Kineteco HSS/HSR spring starters are specified for mining, oil rig and merchant marine use and for ships' black start generators, demonstrating their unique reliability. This heavy duty version takes the spring starting capacity of the SS/SR range up to 9L, for all types of conditions and for a wide range of applications.
The spring starter uses a set of powerful disc springs that are compressed as the winding handle is turned. The pinion is pre-engaged with the ring gear, and when the starter is tripped, the shaft is released to transmit the power of the spring into the engine. This spring starter delivers higher torque and long life.
Marine, flame-proof and E-pack dual start options are available ensuring Kineteco HSS/HSR spring starters can be configured to meet customers' exact requirements.
New engine applications are constantly being developed.  For engines not listed, please contact us.
Kineteco

HSS/HSR Series

Spring Starter

Specification
Description
Spring starter with heavy duty disc springs, on a ball screw wound by a detachable handle, set and tripped by hand. Formerly made by Lucas/CAV
Rotation of starter
HSS = CW
HSR = CCW
Engine Capacity
Max. 6 cylinders, up to 1.5L per cylinder (Subject to local environmental conditions and engine start-up load)
Torque
126 Nm
No. of Output Turns
3
Output Energy
Nom. 1500 Joules
Cold Starting
To 0°C (32°F) starting aids may be required
Maximum Winding Load
81 Nm torque
To Wind Fully
10 turns
Mounting Flange Types Available
SAE 1, SAE2/3, SAE 4/5, Ford. Can be customised
Pinions Available
Fellows stub 10/12, 8/10, 6/8; Module 2.5, 3.0. From 11 to 18 teeth. Can be customised
Winding handle position
Variable in 8.5° increments
Weight
16kgs
Shipping Dimensions
40 x 22 x 27 cm
Standard Equipment
Winding handle and handbook
Options – All models have the following options available
F
Flameproof
E
E-pack for dual starter installations
M
Sealed version for marine environments